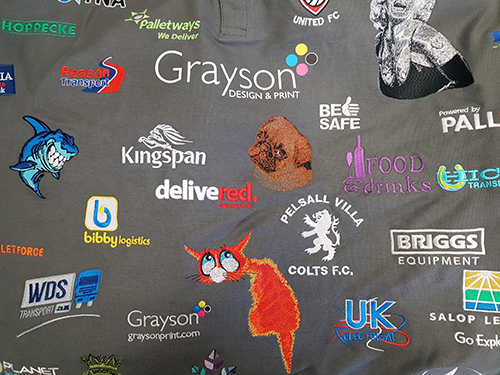 Thanks to our state-of-the-art machinery, Graysons can provide you with a range of techniques to apply your logo to a garment of your choice. Our embroidery machinery will bring your logo to life on any garment. However, there are factors, like the material of your garment, which you should consider before you decide on what kind of application you wish to use.
Embroidered garments are ideal for a number of purposes, the most popular of which being used by employers to give their workforce a strong identity and help to promote their brand.
With this technique when adding a logo to your garment via embroidery, a metal frame is placed onto the garment and a backing fabric is applied to the logo area. This ensures that the garment is secure while the logo is stitched. The actual embroidery process is carried out by a computerised embroidery machine. Your logo is digitised and submitted to the embroidery machines, with the process beginning once additional instructions like the colour of the threads have also been submitted. We use only the best threads and embroidery machines to guarantee the highest quality result.
In terms of suitability, embroidery tends to work the best on polo shirts, business shirts/blouses, aprons/tabards, jackets & headwear.
Our embroidered uniform is not only high quality, it's also incredibly affordable. Enquire today to find out more.